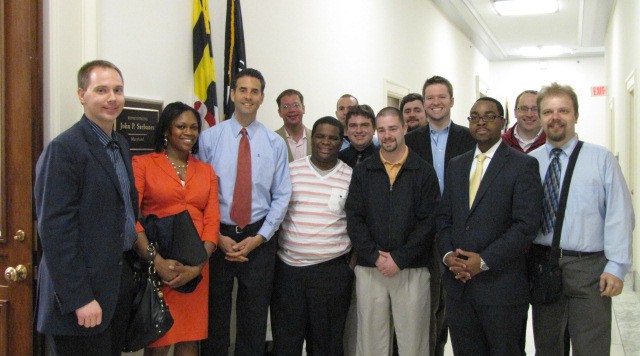 MCYD recently participated in a visit coordinated by Dan Ewald, Programming Director from the Baltimore County Young Democrats, to several of Maryland's Congressional Delegations at their offices in Washington DC.
The event was attended by a dozen other Young Democrats from across the Great State of Maryland, including MCYD's Max Etin, Laurie Ann Sayles, and Matt Nisenoff.
Matt shares his thoughts on the experience:
Dan […] did an outstanding job of it.

We were honored to meet with Congressman Elijah E. Cummings, who represents Baltimore City, Baltimore County and Howard County; Congressman John Sarbanes, who represents portions of Anne Arundel County, Baltimore City, Baltimore County and Howard County (and with redistricting will include a part of Montgomery County); and Congressman Dutch Ruppersberger, who represents parts of Baltimore City as well as Baltimore, Anne Arundel, Harford and Howard Counties.

All were generous with their time and spoke eloquently on issues they are currently facing and how the force of those outside of Congress is particularly important in moving forward with issues in the current political atmosphere.

It was an honor to meet with these members of Congress. Their staffs were professional, helpful and informative, and their support on the visit was appreciated.  The tours of House and watching part of the days session rounded out an experience that we will appreciated.
One of the perks of being a member of the Montgomery  County Young Democrats is incredible access to elected officials in the region.
Not a member yet? Register online today at mcyd.org/register and attend our May 24th Membership Meeting in Silver Spring to get connected.