Featured Event
On
Sunday, September 24th
, MCYD will host our 13th Annual
Paint the County Blue
(PTCB)! Part-Fundraiser, Part-Mixer, Part-Democratic Party; PTCB is a great way to gear up for the Fall with our local Democratic community.
This event is really a celebration of what it means to be a Democrat. Join us as we toast the work of local Democratic activists, community partners, and MCYD members! Come out and enjoy food and fun with some new friends – you don't want to miss this event!
We're thrilled to announce that our host this year will be friend of MCYD and progressive champion, Councilmember Nancy Navarro!
The success of Paint the County Blue will determine what resources MCYD will have to support our work in progressive advocacy and education in Montgomery County and Maryland. The funds will also help us continue our work in creating and growing the next generation of progressive leaders in our movement.
In addition to joining us for the day, we ask that you take part in MCYD's work by becoming a sponsor at one of the following levels:
Patron – $2500
Partner – $2000
Steward – $1000
Changemaker – $500
Supporter – $250
Friend – $125
You can become a sponsor 

online

 or by sending a check to "The Montgomery County Young Democrats" at P.O. Box 10545, Rockville, MD 20849. For questions, contact us at ptcb@mcyd.org.
We'll See You @ Paint the County Blue!
Monthly Meeting: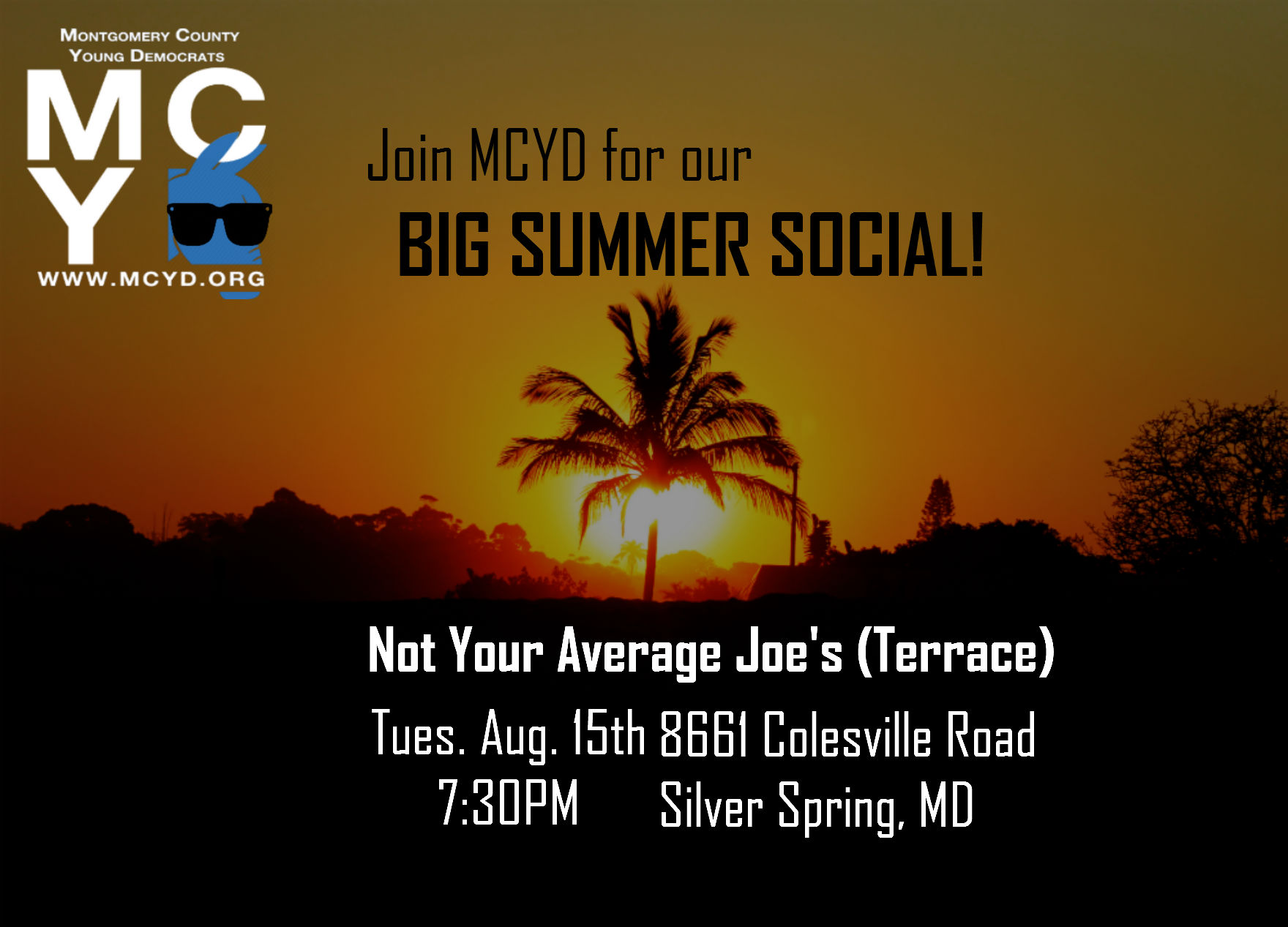 On Tuesday, August 15th from 7:30-10-PM – MCYD will host our "Big Summer Social" at Not Your Average Joe's in Silver Spring. Join us to enjoy food and drinks with friends new and old. We'll also be recruiting for our "Fill The Seats" campaign w/ our guests from various County Boards and Commissions. RSVP Here!
Here are some upcoming events!
MCYD Monthly Meeting/Event: Big Summer Social
Tues. 8/15
Silver Spring, MD
RSVP
MoCo Dems @ the 2017 County Fair!
Everyday Through Sat. 8/19
Gaithersburg, MD
RSVP
D17 Canvass with MoCo Dems
Sat. 8/27
9:00AM
Rockville & Gaithersburg, MD
RSVP
D15 Canvass with MoCo Dems
Sat. 9/9
9:00AM
RSVP
Greater Silver Spring Dem Club Summer Fest
Sat. 9/16
1:00PM
RSVP
MCYD's Paint the County Blue
Sat. 9/24
3:00PM
Colesville, MD
RSVP
*MCYD provides information about certain events as a service to the event hosts and our members. Events in gold serve as public notices for our members. They are not hosted, co-sponsored, or endorsed by MCYD. MCYD recommends that you contact the host before attending an event to confirm the date, location and other details.
To request that an event be shared on this calendar, contact us at MoCoYoungDems@gmail.com